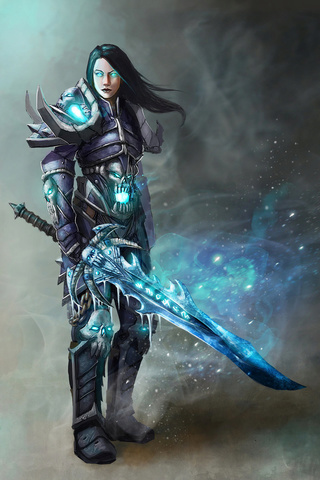 Sheet: 1.0
Name: Celéste Nightingale aka "Cryptraven"
Race + Class(level): Gilnean Ebon Knight(110)
Sheet Level: 15
Health: 40
Power: 40
Combat: 36
Avoidance: 36
Healing: 36
Weapons
Runeblade of Oblivion - 2h Sword - 6 dmg, 8 crit.
Essence of Undeath - Base Magic - 4 dmg, 6 crit.
Armour
Cuirass of The Crypt - Plate - +2 Health.
Abilities
Death Coil(10): Celéste spends 10 power to send a Death Coil attack to her enemy, damaging the enemy for 3 HP while healing herself for 2 HP.
Death&Decay(10): Celéste desecrates the area below the enemy,dealing 2 dmg to 5 enemies.
Anti-Magic Zone(10): Celéste pulls up an anti-magic zone for 10 Power, protecting everyone from magic attacks for 3 turns.
Death Strike(20): Celéste erupts her blade with the power of Death, sending an arc of corrupting shadow against the target, dealing 10 dmg.
Apocalypse(All Power): Celéste uses her remaining power to activate the runes on her blade, empowering it fully, dealing half the damage of power spend to a single target.
Army of the Dead(25): Celéste raises 5 Undead from the ground that attack and instantly kill 5 enemies at the expense of 25 power.

_________________
What you do when facing death, defines who you are.